A COMPILATION OF LOVE SONGS
BY INDIEPINOY ARTIST



41 love songs by indiepinoy artist in one package. 17 songs are included in a compilation CD which is available at major record bars and alternative music stores as listed below. 24 more songs are available for mobile downloads.



You may download the songs direct to your mobile celphones.

For SMART SUBSCRIBERS
Wap your way to http://clickhere.ph/indielove
and choose your song to download (full track music or truetones).

For GLOBE SUBSCRIBERS
Codes will be posted here soon.



INDIE LOVE IS AVAILABLE AT ALL MAJOR RECORD BARS NATIONWIDE.



INDIE LOVE is also available at all
PHILIPPINE CHRISTIAN BOOK STORES
and at the following outlets:

CLC Bookshop
#20 P. de Leon St. Karuhatan Rd.
Valenzuela City
Tel. no: 291-5002

KALOOB Bookstore
Folk Arts Theater CCP Complex
Tel. no: 832-1120
Amazing Radiant Grace Bookstore
#926 Aurora Blvd. Project 4 Quezon City

JCSGO Resource Center
15th Avenue Cubao, Quezon City

Philippine Bible Society
UN Avenue, Manila
Philippine Bible Society
396 R. Magsaysay Blvd.
Sta. Mesa, Manila

Salvation Army Christian Supplies
1414 Leon Guinto St. Ermita Manila
Tel. no: 524-0086 loc.109

Lighthouse Bookstore
Word of Hope Christian Center
Tel. no: 412-5938

CLC Bookshop
#20 P. de Leon St. Karuhatan Rd. Valenzuela City
Tel. no: 291-5002


CDs are also available at:

The JUNKIE SHOP, Unit 4b, Cubao Expo, QC, Tel 216-1601

MONKEYMAN RockShop , Stall25, Cartimar Shopping Center, Recto, Manila

GENRE BAR, Cubao Expo, Quezon City

CHECKPOINT BAR, Paranaque City

CONSPIRACY GARDEN BAR, Visayas Ave., QC

UR105.9 Underground Radio Booth, UP Fair, UP Diliman, QC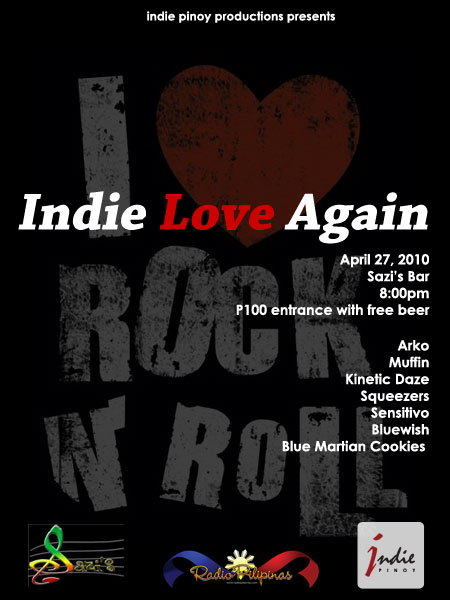 ALBUM RE LAUNCH ON APR 27

Indie Love album kicks of another line of events of promo gigs. On april 27, tuesday, exciting bands will perform at Sazi's Bar in Espana, Manila (formerly Mayric's) - Sensitivo, Squeezers, Arko, Kinetic Daze, Muffin, Blue Martian Cookies and Bluewish. Be there to witness this exciting event. Sazi's Bar is in front of UST. P100 entrance fee with free beer.


This show is made possible by, Indiepinoy, Radiopilipinas, Songwriters Philippines, 888 Creative Studios, MyMusic.ph, Audiowav, NU107 and UR105.9 Underground Radio.




ALBUM LAUNCH:
Feb 10 - GENRE BAR CUBAO
Feb 12 - CHECKPOINT BAR PARANAQUE (Album Launch PART 1)
Kinetic Daze, Insanara, 2 Days Ago, Sensitivo, Kada
X2M: Ten to Midnight, Blue Martian Cookies & Adobo Uppercut
Feb 15 - CONSPIRACY GARDEN CAFE QC(Album Launch PART 2)
Sander, Rei, JeffreYumol, Dong Canillo, Muffin & Jake Lanting
Feb 17 - GENRE BAR CUBAO (Album Launch PART 3)
GinRumNTruth, Popoyfield, Radiomachine, Seven Aside
Pisenlav & Dream Kitchen

BAR TOUR:
Feb 19 - TEN02 BAR QUEZON CITY
8daysaweek Prod with Blue Martian Cookies & 2Days Ago
Feb 24 - GENRE BAR CUBAO
Feb 27 - SAZI'S BAR, MANILA
Back to The Edge with Dream Kitchen
Mar 05 - LIWASAN BONIFACIO, MANILA
Mar 06 - CHECKPOINT BAR PARANAQUE
Kinetic Daze, Muffin, Rei, and more
Mar 12 - TOMATO BOMB QUEZON CITY
Muffin, Blue Martian Cookies, Arko and more
Mar 21 - ALS BAR PARANAQUE CITY
No Front Act Prod
Mar 25 - Club Dredd, Eastwood, Libis
8daysaweek Prod
Apr 27 - SAZI'S BAR, ESPANA, MANILA
Sensitivo, Squeezers, Muffin, Arko and more

RADIO GUESTINGS
Feb 22 - UR105.9 with Black Sarah - Back By Midnite & Dream Kitchen
Mar 7 - NU107.5 In The Raw 6pm - Sensitivo, Insanara, Pack of Wolvz
Date with Fate and Arko

PROVINCIAL TOUR:
To be announced soon!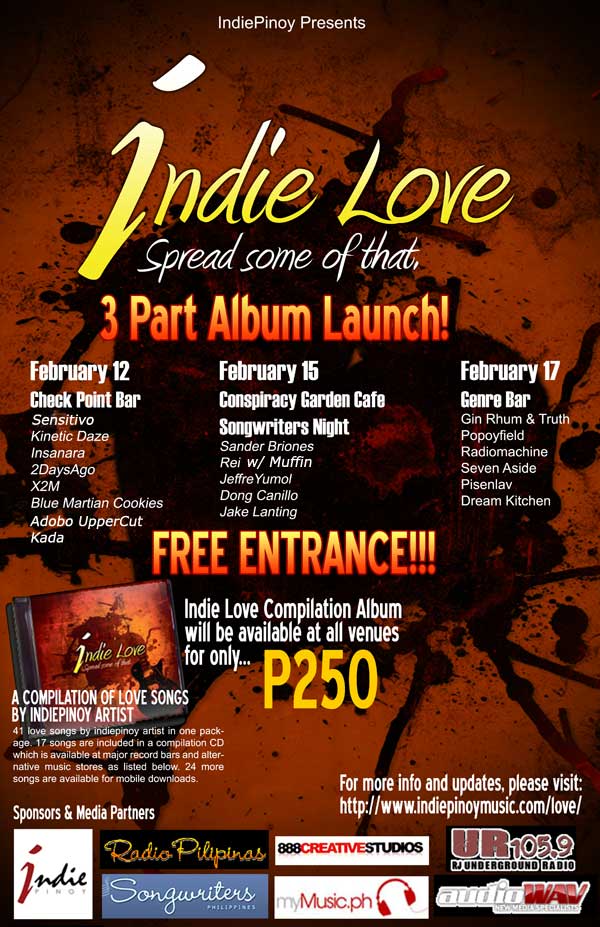 ---
OTHER SPONSORS:
MANILA:
DIPOLOG:
LUCENA:
CEBU:
PAMPANGGA:
TACLOBAN:
ILOILO:
CAGAYAN DE ORO:
DAVAO: